People are often puzzled by this term. Mention a haboob to a non-Arizonian, and they give you a look like "say what?!? Our weatherman has a saying: "Pain before the rain".  It pretty much sums up the excessive heat              and hot drying winds that sets us up for the start of monsoon season, Then there are the hopes and prayers Monsoon actually happens as it's our major source of rainfall. On average we only get a whopping 6.4 inches for the entire year.
What exactly is a haboob?
An old interview with some new members of our football team gives some interesting insight. I imagine there is some form or another of this asked of each new player that joins the team, and those who don't live in Arizona.
 The newest Arizona Cardinals weigh in:
Playing football, or any sport for that matter, in Arizona comes with some uncommon factors that don't typically come into play elsewhere in the country.
There's an abundance of scorpions — just ask Tre Boston — rattlesnakes and the occasional haboob.
Arizona Cardinals center Evan Boehm took it upon himself to make sure the newest members of the team were properly informed as to what exactly a haboob is. For most of the players asked, a haboob is pretty much the closest thing to the world ending, and from the looks of it, there may be a need for a refresher course in the near future for a few of the players.
"It's when it seems like the apocalypse is coming, but really it's only rain and sand," wide receiver Brice Butler said.
Rookie center Mason Cole reiterated the wideout's words. "It looks like the world's ending, but when you are in it, it's kind of foggy, real windy, but besides that it looks like the world's ending," Cole said.
For offensive lineman Korey Cunningham, the term can't be real. "You're lying," Cunningham said when asked what a haboob is. "Were they the things in the cafeteria?" After experiencing the weather events firsthand, the lineman still wasn't sure what a haboob was until he started talking about the loud phone alerts he gets when a storm's on the way. "I thought a hurricane was about to hit, but then I was like 'we ain't by no water," Cunningham said. "So then I asked someone at the table and they said it was a haboob and I looked outside and I thought the world was about to end. With all the dust in the air and it starting to get dark outside it was kind of scaring me a little bit. But it's just a dust storm that's all it is."
Out of all the players, offensive lineman Justin Pugh was the most knowledgeable and even used some cinematic inspiration to give his definition of the storms. "They're like 70-mile long, five-mile high dust storms that come before the monsoons," Pugh said. "I feel like I'm in that movie The Mummy when the face is coming out of [the dust storm]."
But whatever you do, don't ask rookie wide receiver C.J. Duncan what a "Haboo" is. "I don't know what that is," Duncan said when asked. "Is it some kind of clothing?"
So, what is the actual definition of a haboob?
Seeing your first Arizona haboob can be a lifetime event. A haboob is a huge dust storm created from the airflow of a thunderstorm or intense shower. The winds driving the haboob can reach 50 miles per hour and blow dust up to 10,000 feet into the air.
The term "haboob" is from the Arabic language and means blown. A strong Arizona haboob can last for a few hours and travel over 100 miles. The winds moving a haboob can cause sever damage and power outages. Arizona haboobs occur during the summer monsoon season. Along with Arizona, haboobs occur in New Mexico and western Texas. Visibility is likely to be zero as the wall of dust overtakes vehicles. The haboob is the Southwest's answer to the northern whiteout.
The greater Phoenix metro area is well known for haboobs. On July 5, 2011, one of the largest Arizona haboobs ever observed occurred. This Phoenix haboob rose over 5,000 feet high. A wall of dust covered the entire Phoenix area from Apache Junction to Goodyear.
What creates an Arizona haboob?
Summer monsoons bring strong winds and concentrated down pours. As the monsoon thunderstorms collapse, they can create high outflow winds. The outflow winds cause gust fronts to form. The gust front picks up massive amounts of dust and sand which move up into the atmosphere.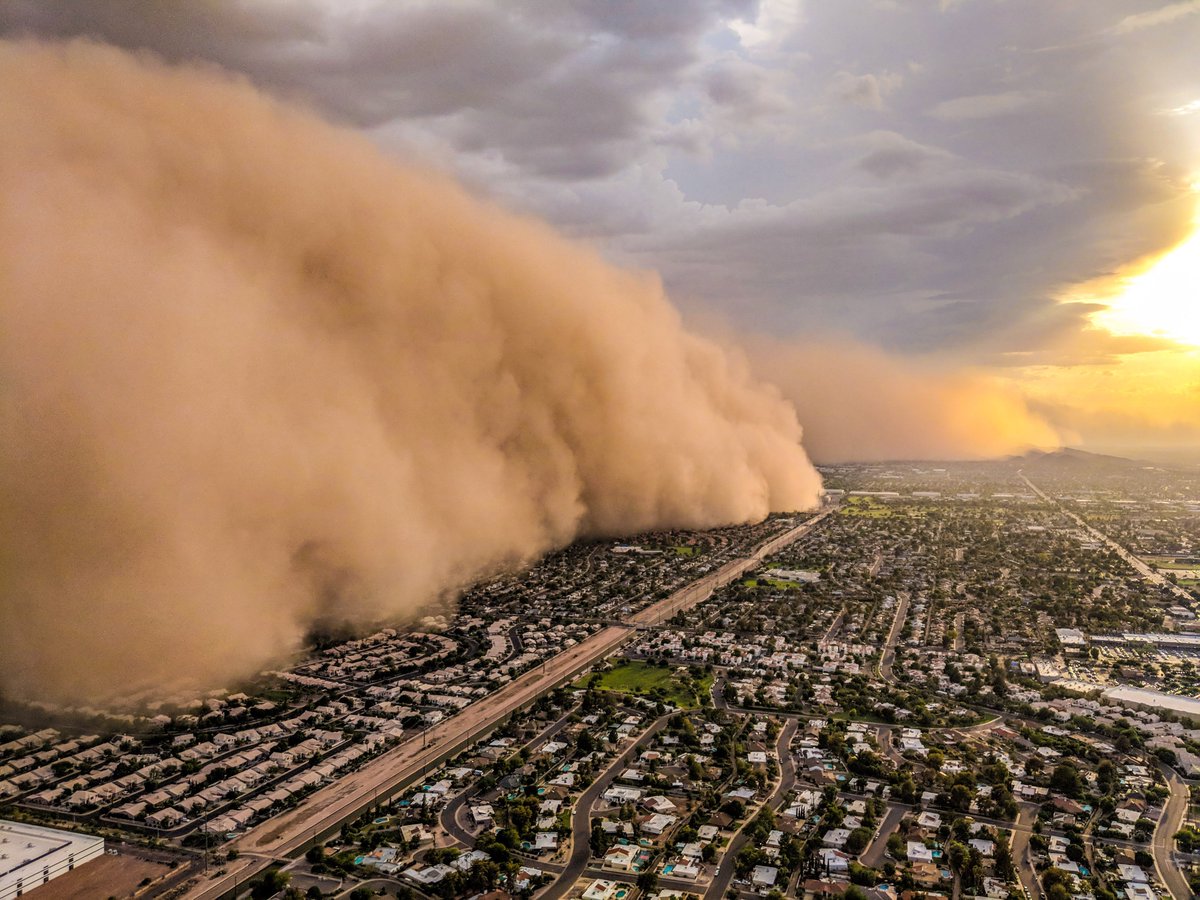 Phoenix has 1 to 3 Arizona haboobs every year. Haboobs are also prevalent in Casa Grande, AZ, about 40 miles south of Phoenix. See the Fox News video of the Phoenix Haboob. Be Patient, it takes a few seconds to load.
Thanks for stopping by 2DogsTravel. The Chiweenie Brothers and I are looking forward to, hopefully, doing a bit of traveling in the near future, but you know, with the way things are in Arizona and being the pariahs due to Covid …. no one wants us in their state!  Perhaps a jaunt within Arizona once the crowds clear out of the higher elevations.  We'll see. It's feeling pretty good sitting under the cooler that runs 24/7 even though it's become a bit boring.  Lots of reading time.
CURRENT READ:  Where the Crawdads Sing by Delia Owens (hard to put down!)
Just finished: The City by Dean Koontz.  A decent read by this master of the horror/thriller/suspense novel, but not one of his best in my opinion.